Are we heading into the next Ice Age? Ha, while it sure feels like it this spring, I'm not very confident about that. What I am confident about is all the snow hanging around in the mountains! Reservations for next summer have been rolling in as folks try to plan for the summer and hiking or biking between Crested Butte and Aspen.
Let's look more into all that snow so folks can better plan their summer. Not only did we have a big winter, but we are having a very late spring and a slow start to the melting snowpack.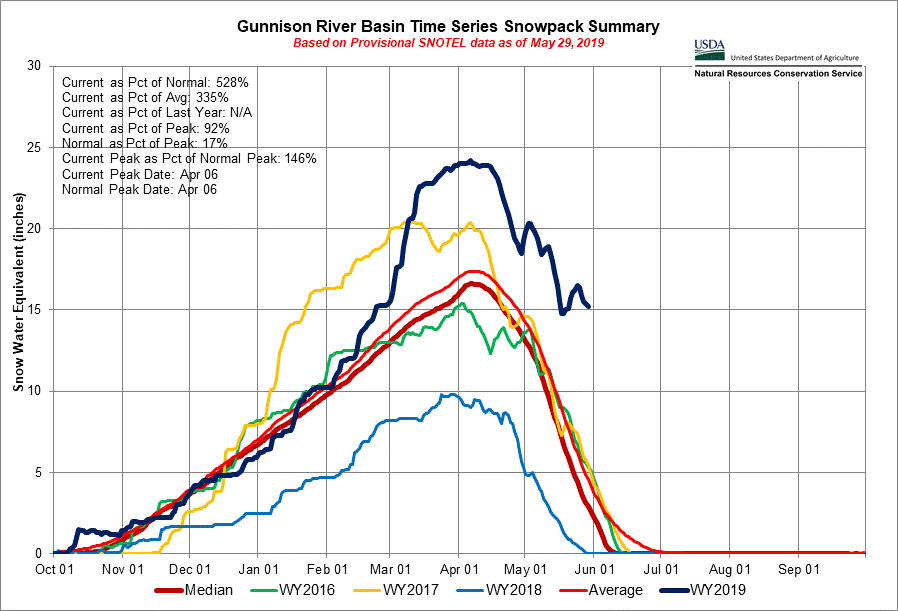 Check out the graph above. This graph is a representation of the water held in the snowpack for the last 4 years, and some averages for the Gunnison River Basin. You can see that not only did we have a big winter, but we are currently several weeks behind the average melt.
Another example is to look at the current snowpack hight on Schofield Pass. At 10,700ft a remote weather station is reporting the current snowpack hight at 7 feet 6 inches!! Thats well over your head and a lot of snow that sill has to melt!
So to keep this short, there is still a lot of snow in the high country! We are just going to have to wait and see what June brings and watch how the melt goes. We can guess that there is going to be snow blocking the road on Schofield Pass from Avalanche debris until late into the summer. This is normal on a big snow year. So you can expect to add 2-3.5 miles to the normal West Maroon Pass Hike. Up on West Maroon Pass, East Maroon Pass, or Pearl Pass for some example, you should expect snowy conditions into July.
In July that snow will generally have become supportable so you can walk on it. That part can be fun and the shuttle runners love it because we find slopes to ski in our running shoes. The danger comes from unprepared folks slipping and falling on steep snow slopes where they can slide into rocks below. As more and more folks make the hike over West Maroon Pass for example, a trail of sorts will start to form on top of the snow. This helps form a little ledge on steep slopes some times, but that doesn't mean you can't still slip and fall. So, if you are planning to hike between Aspen and Crested Butte this July you should be prepared for traveling steep slopes on snow. This should mellow out by late July and August, but again we'll just have to see how the melt goes.
As it gets into later June and I get more information on conditions, then I'll do some more updates.